1
« on: Today at 06:53:28 AM »
He didn't stop them.



When they entered the building he told them to go home:

That video is 2 hours after the initial breach of the building. 1 hour after the breach he tweeted: "remain peaceful".
13:10
Mr Trump ends his speech with the words: "We fight. We fight like hell and if you don't fight like hell, you're not going to have a country anymore. So let's walk down Pennsylvania Avenue."

14:13
Secret Service quickly and suddenly evacuate Mr Pence from the Senate floor.
The protesters break through the windows. They push inside, hopping through the broken glass. They then kick open the doors to let others in. Some wear hoods and helmets, some hold cameras or Confederate flags.

14:24
President Trump tweets about Mr Pence.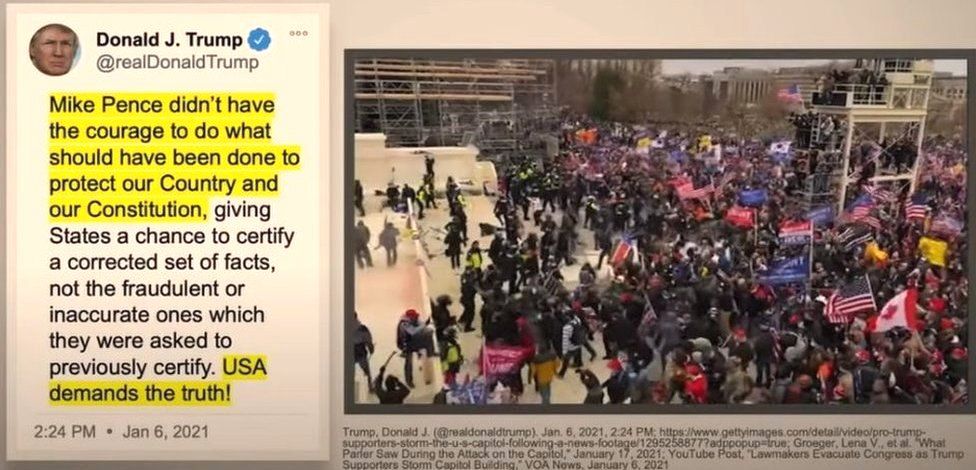 Rioters start to spread through the buildings. Others break in from outside through various doors around the building.
They open the east side door of the rotunda to let more people in, flooding through the doors and overwhelming the officers.

15:13
Trump tweets asking for people to "remain peaceful".

16:17
Trump releases a video in which he tells the mob to go home.
Quote from: Dr Van Nostrand

he didn't call Homeland Security


Actually Trump said that he deployed the National Guard and Federal Law Enforcement. See the 11 second mark in the following video: "I immediately deployed the National Guard and Federal Law Enforcement to secure the building"

It was also corroborated by officers in testimony that the National Guard was called:

https://www.govinfo.gov/content/pkg/CHRG-117hhrg44854/html/CHRG-117hhrg44854.htm



" This team of over 40 officers and non-
commissioned officers immediately worked to recall the 154 D.C.
National Guard personnel from their current missions,
reorganize them, re-equip them, and begin to redeploy them to
the Capitol. We also began to coordinate for the arrival of
neighboring states that were committing National Guard forces
into the District of Columbia. Simultaneously, we had to gather
materials, do surveys, and plan for barrier materials to be
moved to the Capitol in order to protect that institution and
you, and many, many other tasks. This work continued with utter
focus and urgency throughout the night of January 6 and well
afterwards. "

Apparently incorrect:
Republican Rep. Liz Cheney of Wyoming said that it was former Vice President Mike Pence, not former President Donald Trump, who called for the military to defend the U.S. Capitol during the riot.

Mr. Trump "placed no call to any element of the U.S. government to instruct that the Capitol be defended," Ms. Cheney said.

She said Mr. Trump did not call his Secretary of Defense on Jan. 6, or speak to his Attorney General or the Department of Homeland Security.

"Trump gave no order to deploy the National Guard that day, and made no effort to work with the Department of Justice to coordinate and deploy law enforcement assets," Ms. Cheney said. "But Mike Pence did each of those things."

She quoted testimony from Gen. Mark Milley, the chairman of the Joint Chiefs of Staff, who said he got multiple calls from Mr. Pence on Jan. 6.

"He was very animated, and he issued very explicit, very direct, unambiguous orders. There was no question about that. And I can get you the exact quotes," Gen. Milley said. "But he was very animated, very direct, very firm to Sec. Miller. Get the military down here, get the guard down here. Put down this situation, et cetera."

When Gen. Milley recalled his conversation with Mark Meadows, Mr. Trump's chief of staff, on Jan. 6, he said Mr. Meadows told him: "'We have to kill the narrative that the Vice President is making all the decisions. We need to establish the narrative, you know, that the President is still in charge and that things are steady or stable.' … I immediately interpreted that as politics. Politics. Politics. Red flag for me, personally. No action. But I remember it distinctly. And I don't do political narratives."
https://www.wsj.com/livecoverage/jan-6-hearings-news-live/card/cheney-trump-never-called-military-to-defend-u-s-capitol-on-jan-6-but-pence-did-js5yUaivfa2Yz5QCZ77p
He should have sent out a
remain peaceful
tweet even before breach, when people started to smash their way in. He didn't.
He immediately (10 minutes after breach) ginned-up the situation with his nasty tweet targeting Pence for his lack of courage to gum up the proceedings.
He should have called in the Nat. Guard immediately after things started to get out of control, even prior to breach. He didn't.
In fact, he didn't call in the Nat Guard at all. Pence did.